Mini greenhouse

for home, balcony, terrace, patio
Sezam XL Bamboo is a collapsible indoor mini-greenhouse for plants, with built-in phyto-lights and an ultra-transparent coating. The greenhouse is designed to create an optimal microclimate for light-loving and tropical plants in a city apartment, to protect plants from wind and pests.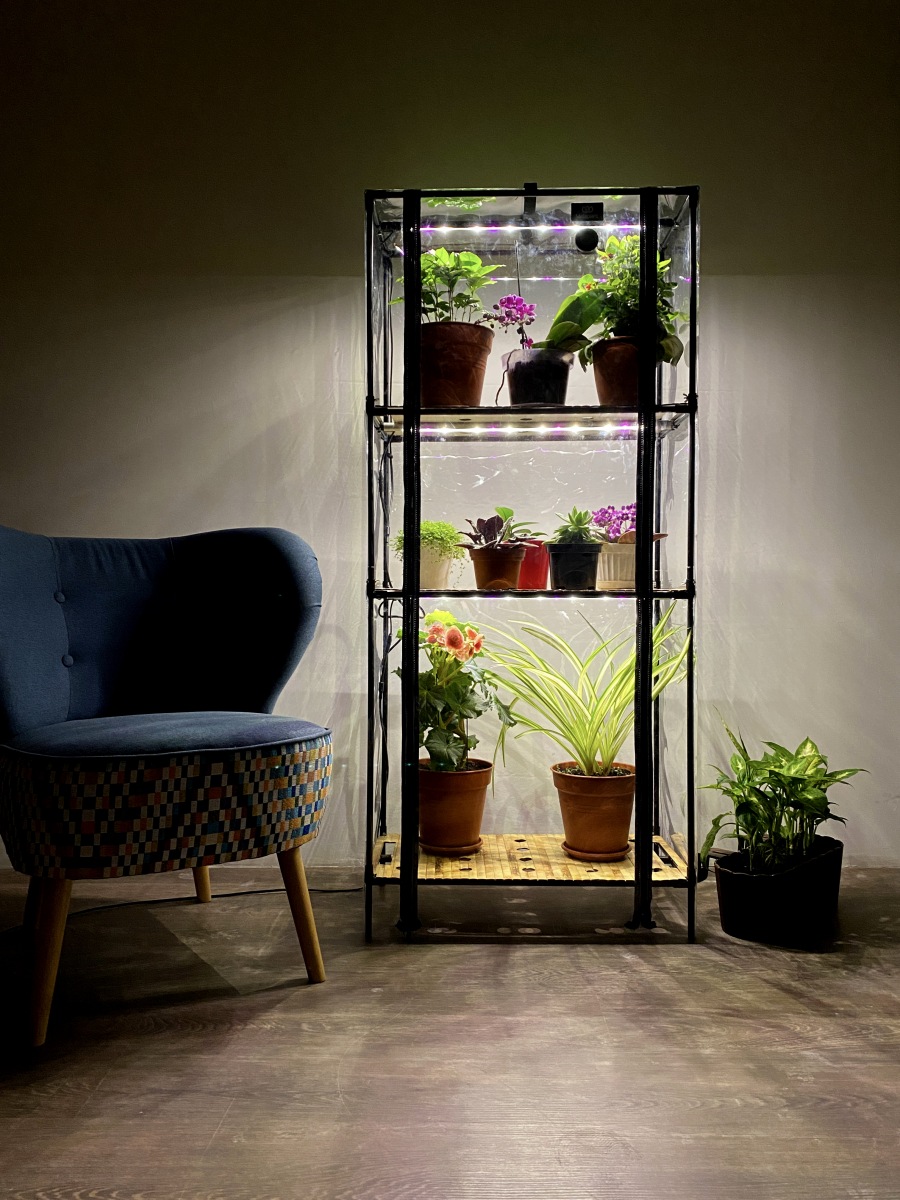 Frame construction
Portable greenhouse Sezam XL Bamboo consists of a frame made of aluminum tubes with a diameter of 0,47 * 0,039 inch. Lightweight aluminum tubes are painted with a polymer material using powder technology and successfully resist corrosion in any aggressive environment. Frame connecting fittings are made of primary production polypropylene and have an original design solution. The greenhouse shelves have a convenient and reliable height adjustment by means of fastening with screws. The structural elements of the shelves are made of bamboo strips with a width of 0,67 lb and can withstand a load of up to 11-13 lb. The system of special holes in the cover of the shelves allows you to carry out the necessary for plants air exchange.
Cover
The protective cover of the Sezam XL Bamboo home greenhouse is made of ultra-transparent silicone PVC film (250 microns thick), has no folds and allows you to observe the plants, at the same time being a protection for them. The detachable connection of the cover is made with a zipper-type fastener and allows you to have quick access to the plants for grooming or airing. The system of ventilation holes in the cover allows the air exchange with the outside environment necessary for the plants (houseplants). A humidity and temperature sensor built into the cover helps control the climate inside the greenhouse.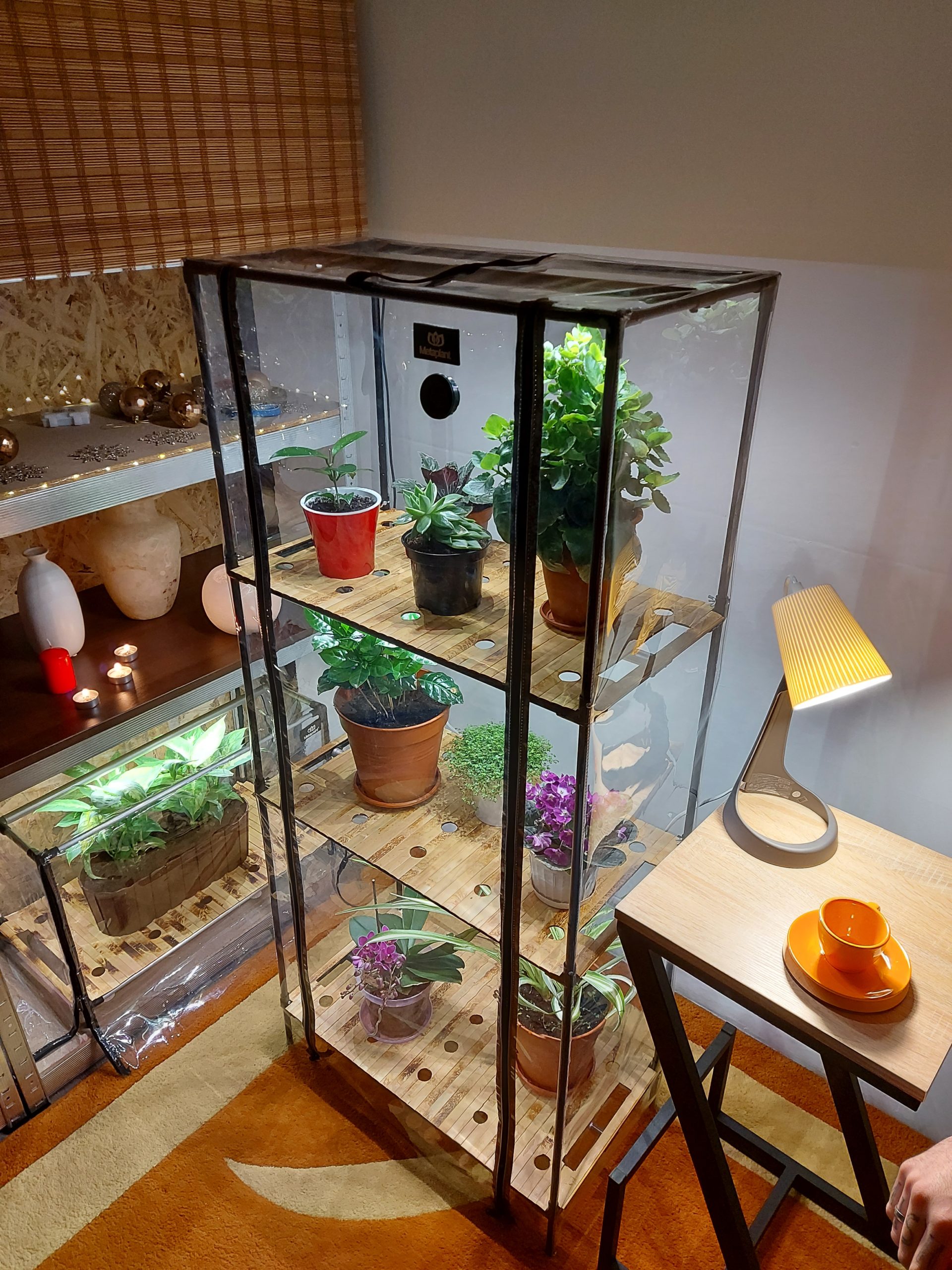 Greenhouse light
The luminaires of the original design are made of aluminum tubes with excellent heat dissipation, which made it possible to achieve high luminous efficiency. The use of 20 full spectrum LEDs LM301B, specially developed by Samsung for plants, gives a luminous flux of up to 7000 lux and a luminous flux density of 106 mM / m2 / s. An additional 4 LEDs of the red spectrum give the plant the necessary synthesis for the production of flowers and fruits. Low voltage 12V power supply ensures safe operation of the system for people and pets.
The Sezam XL Bamboo mini-greenhouse is recommended for domestic plants such as: Orchids, Philodendron, Hoya, Monstera, Alocasia Polly, Anthurium andraeanum, Bromeliads, Dieffenbachia seguine, Corn Plant, Ficus lyrata, Ficus elastic triangularis, Ficusja, Ficus. The greenhouse allows you to maintain (without additional humidification), natural humidity 80% at air temperatures up to 78,8 °F. If you need to maintain high humidity for indoor plants at higher temperatures, use the Sezam XL Tropic mini greenhouse (with original electronic humidifier).
The classic furniture design solution – black metal + natural wood – allows the Sezam XL Bamboo mini-greenhouse to take its rightful place in the apartment and decorate your home interior.
Mini greenhouse specifications Sezam XL Bamboo
| | |
| --- | --- |
| Mains voltage | 110-220v |
| Supply voltage of the luminaire unit | 12v |
| System power rating | 20,7W |
| Luminaire spectrum | Full Spectrum |
| Number of LEDs (Samsung LM301B) | 3*20 |
| Number of additional LEDs (optional) | 3*4 |
| Luminaire size | 24*0.74 inch (diameter) |
| Luminous flux density* (PAR) | 3*106 µMol/m2/s |
| Illumination* | 3*7188 Lx |
| Light flow(Φv) | 3*1517 Lm |
| Luminous performance | 220 Lm/W |
| Energy illumination* (IRR) | 22,57 W/m2 |
| Color rendering index CRI (Ra) | 85,66% |
| Colorful temperature (CCT) | 3317 К |
| Рassembled mini greenhouse size | L 25.19 ″* W 13.38* ″ H 56.88″ |
| Weight, without box | 10,8lb |
| Packing size | L 29.50 ″* W 7.87 ″*H 5.90 ″ |
| Weight of packing | 11,24 lb |
* when used at a height of 7,87″inch from lamp to plant.