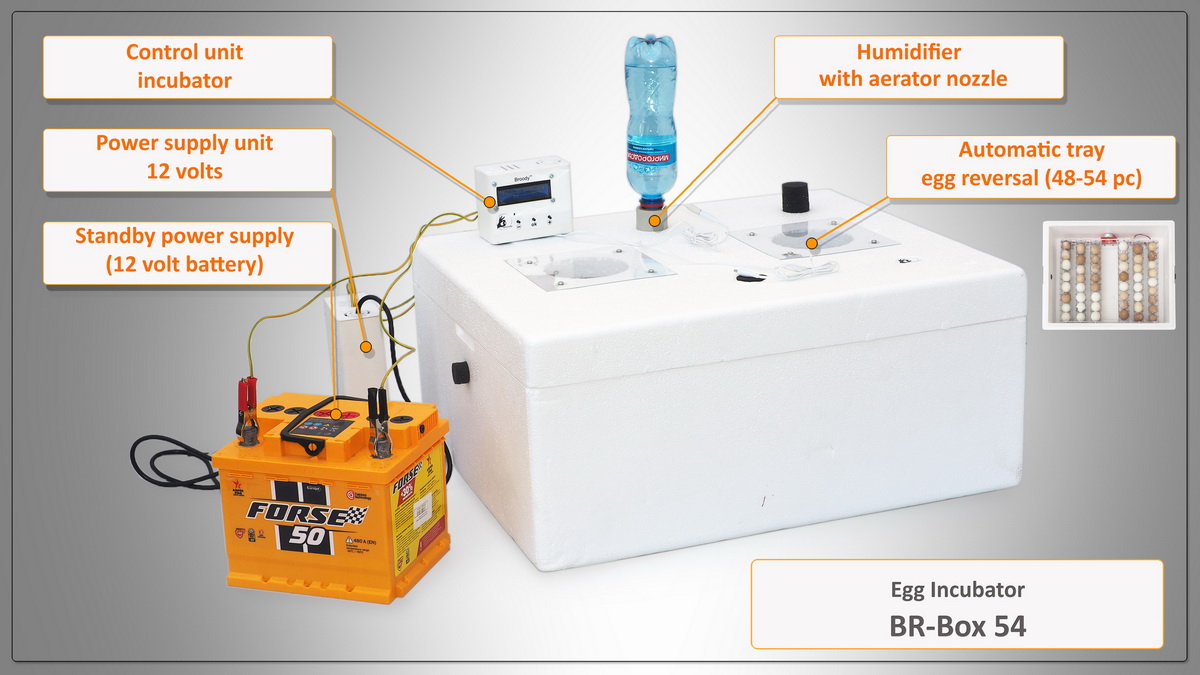 Egg incubator Br-Box 54 is a representative of a budgetary series of incubators with electronic control of heating, humidity, period and time of turning eggs. Incubator capacity: 54 chicken eggs (average weight 50-55 g), 48 eggs (average weight 65-75 grams). The incubator;s tray, similar to the Micro Battery 50 model tray, is equipped with a 12V safe power supply and six net cassettes for eggs. If necessary, a special mesh insert Q28 * is inserted into the tray cassettes for quail eggs. The capacity of the incubator with quail liners is 168 quail eggs. For the withdrawal of eggs with an average weight of 80-150 grams, such as a goose, a universal tray with enlarged cassettes for goose eggs is used.
All energy users of the incubator use 12 volts supply, which provides an external power supply unit, which is included in the delivery package.
The main advantages of Br-Box 50 are:
Low power consumption – 25-40 watts
Humidity control – from 50 to 95%
Battery backup power supply – battery 12v
Automatic egg revolution
Electronic regulation of all incubation parameters
The Br-Box 50 incubator is equipped with an efficient humidifier with hydro-aeration nozzles capable of creating almost 100% humidity in an incubator in a few minutes (97% maximum humidity). The nozzles are made in the standard of thread plugs from conventional PET bottles for food liquids. Thus, the consumer can use any plastic bottle (500-1200 ml capacity) as a reservoir for water.
Due to the increased thickness of the walls of the foam body of the incubator (3 cm), an extremely low power consumption is achieved – 25 watts nominally, 45 watts maximum at the initial heating. Such indicators give the opportunity to work from a car battery for more than 30 hours! In this case, the transition to work from a backup power source and back from the network is automatic.
The incubator tray is equipped with a motor and allows the egg to be turned with any duration and interval – these parameters are set by the user using the control unit. The mesh cassettes of the tray are made of steel mesh with a galvanized coating resisting corrosion in conditions of high humidity. In addition, mesh cassettes make it possible to exclude areas of uneven heating of the egg surface, since they allow free air circulation on all sides.
Characteristics of the Br-Box 54 incubator
Characteristic
Value
Capacity of the incubator / Estimated number of eggs, pcs: – chicken

– quail

48-54

168

Food
12 in
Capacity of the incubator (medium / maximum)
25/45 W
Uniform temperature distribution
Up to <0.3 ° C
Temperature maintenance mode
Auto
Humidity maintenance mode
Auto
Temperature control accuracy
0.01 ° C
Humidity control accuracy
0.5%
Period of flipping trays
20 seconds … 24 hours
Audible alarms for emergency modes
there is
Powered by an autonomous source 12v
there is
Setting the temperature within
30 … 40 ° C
Setting the humidity within
20 – 85%
Humidifier capacity
500-1200 ml
Water flow in the humidifier (H = 55%)
~ 350-500 ml / day
The incubator Br-Box 54 is intended for poultry-lovers engaged in breeding birds of different breeds in households.
* Q28 insert is not included in the scope of delivery – it is purchased separately.
** The 12 volt battery is not included in the scope of delivery