Akuma 450 Dehydrator Overview
A dryer, a dehydrator, an oven, drying – whatever you call it, the essence is the same – preparation of the product by removing moisture from it. There are more than 150 models of dryers on the market, costing from $ 40 to $ 1,000. All of them, generally, are almost identical in design and differ from each other by the materials used and the configuration of the case.
The technical parameters of most dryers are also close:
– volume of the drying chamber: 20 … 35l
– maximum weight of raw foods: 5 … 9 kg
– the number of trays for drying: 3 … 5 in cheap models, up to 10 in medium and expensive (with the possibility of increasing to 15 in some models)
– power: from 400 to 1000 W
Advantages of household dryers: fast drying. The disadvantages of such dryers include: low capacity, high energy consumption, odors in the apartment, dimensions.
The Akuma dryer uses the same principle as most dryers in retail, but has a number of cardinal differences (advantages).
First difference: collapsible housing. As a rule, the dryer is a seasonal appliance and is used during the period of mass harvesting (late summer – autumn). Disassemble the structure in 5 minutes and put it in a small box until the next season.
Second difference: huge capacity! (drying area up to 2m 2 , and if desired it can be increased up to 4m 2) * In our experience, we dried a whole bag! walnuts in one load. The volume of the drying chamber is 185 liters (6-9 times more than that of competitors)!
Third: The ability to dry foods (meat, fish) in limbo. Natural drying at room temperature.
There are other differences, but we attribute them to minor ones (for example, transparent walls of the dryer, the possibility of machine washing the cover, an exhaust sleeve, etc.)
The Akuma dehydrator (dryer) consists of:
Collapsible frame made of aluminum tubes with a diameter of 12 mm. All tubes are interconnected using polypropylene fittings. This design can withstand a weight of 20 kg.
The heating unit, which includes the honeycomb heating element
A ventilation unit whose function is to blow air through the volume of the dehydrator
A cover made of a special dense (250 micron) Crystal transparency film of high transparency.
Trays for drying products (various types)
* Exhaust sleeve (for connecting to the ventilation channel) *
* Optional
The dehydrator can operate in two modes. First, without preheating the air. This mode is used, generally, for drying herbs. Also, this mode is necessary for the proper drying of fish in the recipe "ram". This mode is slower compared to hot drying, but when it is used, the products retain the maximum amount of vitamins. In this mode, the dehydrator consumes ~ 30 … 40 W and the daily energy costs are minimal (less than 1 kW). In our case, drying 3.6 kg of fish (crucian carp) in 3 days decreased the wallet by 8 UAH ($ 0.3).
The second mode, "hot drying", with preheating of air to 45 ° C. In this mode, everything is dried: mushrooms, meat, fruits, vegetables, fish. This mode is faster, but more energy intensive. In this mode, the incubator requires 430-450W and daily energy costs reach 10-11 kW, which in terms of money is 17-30 UAH ($ 0.6-1.1)
Theory by theory, but what in practice?
We tried to dry different products under similar conditions in the Akum dryer (hot drying 45 ° C) and the most popular EziDri dryer on the market (50 ° C mode).
Herbs: dill leaves, celery, parsley
Same result: 14 hours
Fruit:

Bananas (same drying time)
Apples (- 4 hours)
Seedless grapes (- 1 day)
Kiwi (- 3 hours)
Plum (-15 hours)
Ezidry overtook Akumu by 16-18 hours in terms of drying time for whole grapes and halved plums. And this fact is recorded in experience. But that's where the comparison of dryers ended, since we did not dare to dry salted raw fish on Ezidri plastic pallets, knowing from experience that it is very difficult to get rid of the smell of fish from plastic. It is also almost impossible to cook the popular churchkhela product, nuts in a grape juice on a string.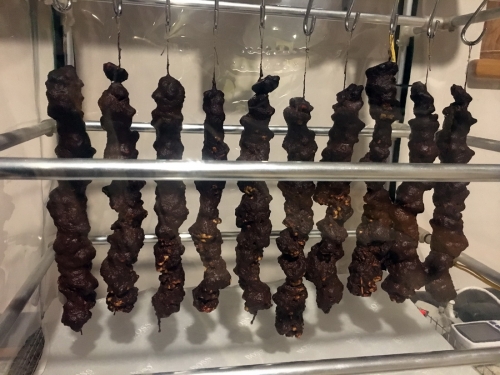 Therefore, the second and third experience of drying fish was carried out in Akum without comparison with competitors, since we did not find competitors in this category in the market. * Although craftsmen make wood-like dryers in their country house very often.

They bought 3.6 kg of fresh crucian carp (250-300gr each), gutted it, cut it with a "butterfly", salted it in a refrigerator for 3 days under oppression. After washed, soaked for 3 hours and hung to dry in a dehydrator. The mode of "cold drying". An exhaust hose into the ventilation duct – there is no smell in the apartment.
What did we get? After 2 days, we received ~ 1 kg of dried crucian carp of excellent taste quality (as confirmed by 5 lovers of "ram", which presented the product))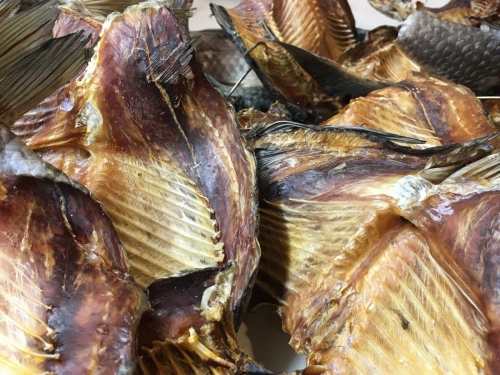 * We also tried to dry another fish – trout, more fat. The fish was prepared for drying without gutting. Due to the abundance of fat and without removing the viscera, the fish dried for a very long time (in the hot drying mode) – 5 days. And as a result, the product turned out in the form of "hot smoked" fish (or hot dried), the meat is soft, fat and crumbles into pieces. Very tasty, but this is not a "ram"))
What disadvantages did we find?
– inconvenient loading of fish on hooks on the side of the dehydrator, it is much better if the loading of wet fish was carried out on top of the dehydrator
– you need a special tray to collect fluid and fat, which drips the first hours from the fish. If you do not use the tray, which was the first time we had dried, the fat from the fish is absorbed into the fabric elements of the "snake" and it is difficult to eliminate it even in the washing machine.
In general, the dryer deserves attention for each item inaccessible to other competitors:
– huge capacity!
– saving space and energy
– "natural" drying without heating
– drying products with a specific smell in an apartment
We recommend this dehydrator dryer for users with a summer cottage and living in a city apartment, as well as for fans of stockfish, meat and Georgian sweets. Also Akuma 450 will be useful to mushroom pickers for mass drying of the forest "crop" of mushrooms and berries.